JUST (BARELY) IN TIME FOR SUMMER: FURNITURE FOR OUTSIDE!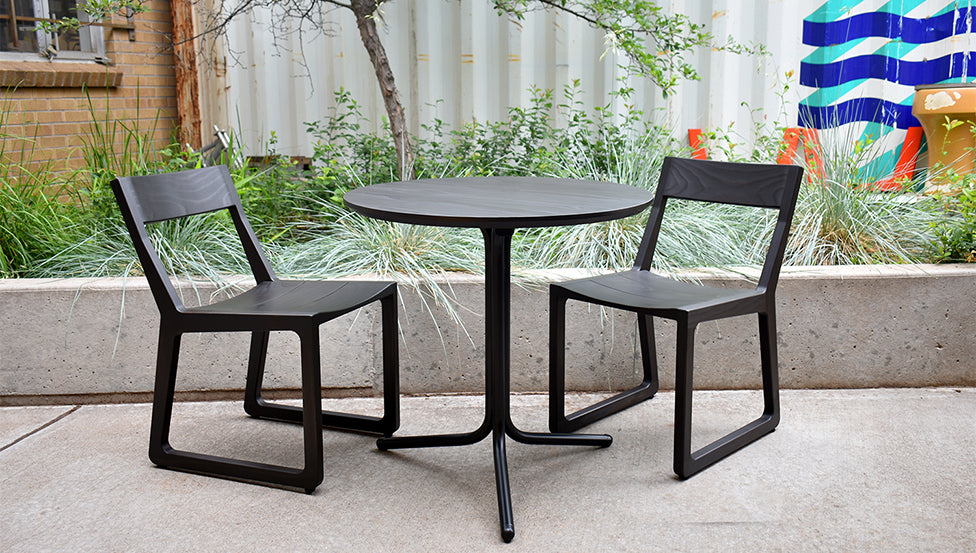 No one has ever accused us of being good at salesmanshippery, or whatever they call it, and frankly we're not likely to argue that point. We've had a couple full-time, all-day-every-day sales folks roll through here on the DB payroll and none have lasted long. We're more of a are-you-handy-in-the-shop sorta company, a get-your-spreadsheet-outta-my-face kinda place, a why-are-you-telling-me-we-need-to-introduce-an-outdoor-collection-in-February type of business. And sure, a little planning never hurts. Getting out in front of it makes some sense. But really, we've been busy. We get to it when we get to it. And that's why we are where we are: pretty much right where we've always been.
But hell, showrooms all over the world or not, the work's lovely. Take these pieces here: a new cafe table, which we're calling the Dingus, and a weather-proof wood version of our iconic (just let us call it that) Roadrunner chair. Both the table top and the chairs are made from Accoya, a softwood that's been pressure-treated with essentially really strong vinegar to make it impervious to rot and remarkably hydrophobic. We blacken it with our old-timey chemistry (vinegar, steel wool and bark tea) and top it off with a gorgeous, satiny outdoor finish. It's really something.
And of course the steel table base is worthy of some praise too: a zinc-rich primer under an outdoor powder coat. And since we hate a wobbly table more than most, a tripod base and round top with a subtle undercut bevel. When will it be available in the shop? As we say, we'll get to it when we get to it.
---